Vice President Yemi Osinbajo has stated once he tried to take up an allegation against him with the Economic and Financial Crimes Commission (EFCC).
But Osinbajo said on Friday, December 23, that when he took the case to President Muhammadu, the president asked him not to worry himself over baseless allegations fabricated by mischief-makers, The Cable reports.
The vice president noted that the president was able to calm him down because the allegations infuriated him.
Osinbajo recalled:
"One day, I went to him because there were some allegations that were made against me," he said.
"And I was so angry; so I went to him to show him the letter I had written to the EFCC to investigate.
"He looked at it and looked at me because he calls me VP or professor depending on his mood.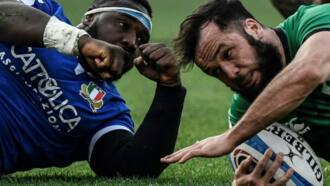 Italy's black prop Traore blasts racism after rotten banana Christmas gift
"This time he said, 'VP, why do you worry yourself about all these people? These people just make all sorts of allegations, they make all sorts of stories up…"
Source: Legit.ng